Towmaster Brings the Holiday Cheer in Litchfield Holiday Light Up
Each year, the Litchfield Area Chamber of Commerce hosts holiday events to bring the community together and celebrate this festive time of the year through an event called Light Up Litchfield. Of course, this year, holiday celebrations can't look like they did in years prior. However, Towmaster is still joining area businesses in coming together to make a safe and celebratory event for local area children and families for this year's version of Light Up Litchfield.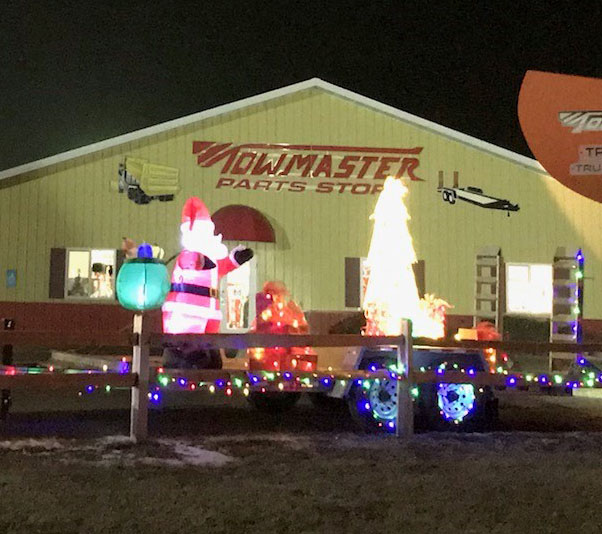 Every participant is decorating a significant company product and displaying the presentation outside their facilities. Families can then drive through from business to business to witness the displays and celebrate the season safely from the comfort of their vehicles.
The Towmaster team decorated both a chassis and Towmaster Trailer with lights, tinsel and other holiday decorations. They made room for Santa to sit in the trailer and greet visitors passing by.
Despite not being able to participate in regular community celebrations, Towmaster is proud to support the Litchfield community and surrounding areas. We are happy we were able to observe the holidays in a safe way, and bring children and families a bit of normalcy and holiday cheer.
Stay Up To Speed with Towmaster
Sign up for our newsletter to get advice, resources, and news from our team a few times a month.
Related Posts
Towmaster was proud to host a tour for nine out-of-town guests who were visiting Meeker County for the 50th Annual Litchfield Peanut Butter & Milk Festival. The festival...
Read More >
Seniors from Litchfield High School in Litchfield, MN are experiencing a different kind of graduation ceremony this year. Due to coronavirus, gathering for a traditional...
Read More >
The rise of the COVID-19 pandemic has left hospitals around the country in dire need of lifesaving supplies. In Litchfield, Minnesota, the Meeker Memorial Hospital was...
Read More >